Posted:
November 30th, 2009 |
Author:
justin
|
Filed under:
Assignments
|
Comments Off
1. Overview
My final project will explore the relationship between the geographical location of Twitter users and the New York Times articles they tweet about. I'm interested in seeing (geographically) where the interest of Twitter users lie on a daily, monthly, and (possibly) yearly basis. I also plan to implement filters, allowing users to explore where New York Times article topics are being talked about most, and the distribution of tweets about New York Times articles by section.
2. Data
NYTimes Articles API
BackTweets API
Twitter API
Google Maps API
3. Design Questions
What does the distribution of Twitter user's interests about various topics, locations, and sections from the New York Times look like visually?

Do current issues in the news effect where Twitter users decide to tweet about?

Do patterns emerge based on country/region, or are the Tweet/Articles relationships random?

Are there unseen political/economic/social relationships between countries/regions that are hidden in the data?
4. Prior Art / Precedents
Flight Patterns by Aaron Koblin
This visualization elegantly maps air traffic patterns. Some of the images in this series show incredibly intricate networks that are formed by air traffic, as well as the locations of the largest airports.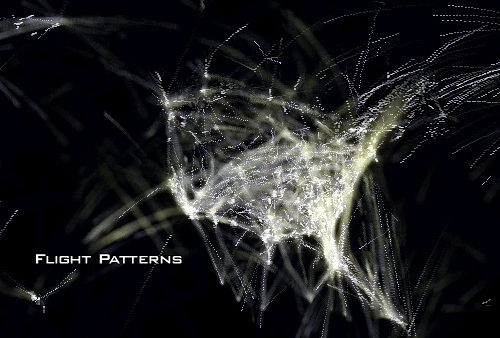 Just Landed by Jer Thorp
Jer Thorp's processing based visualization shows the locations of twitter users and the places that they fly to, cleverly scraped based on the two tweeted words "just landed". One of the most compelling aspects of this piece is the 3d translation of data, allowing for an exploration into the intricacies of the paths.
---